Karlovac County has long been a gateway to the Adriatic, ever since Habsburg times it has figured as a major transportation hub. Failed empires and cursed republics have gone by, and today Karlovac County is on the main Croatian thoroughfare towards the coast, although as a result of the modern highway bypassing downtown it is usually no more than a GPS dot en route to the beach.
Even though a lot of Croatian tourists still use the old roads thanks to the hardly affordable tolls in place on the highway, the historic roads that have a starting point in Karlovac County have gotten rid of a lot of coast bound traffic that used to cause havoc on the somewhat outdated and unkempt roads.
Enter the cyclist. Some stretches of these roads, namely the busy one towards Dalmacija that could be the prime road for cyclotourism as it takes one to the world famous Plitvice Lakes, need to be rebuilt with proper shoulders to give bicycle tourism any chance to flourish. However, the lower traffic density on the other roads hailing from the Habsburg Empire make Karlovac a great hub for bicycle touring. Add to that the multitude of quiet back roads that zigzag through this region and voilà, we have a cycling destination that can offer a lot, to both mountain and road cyclists alike.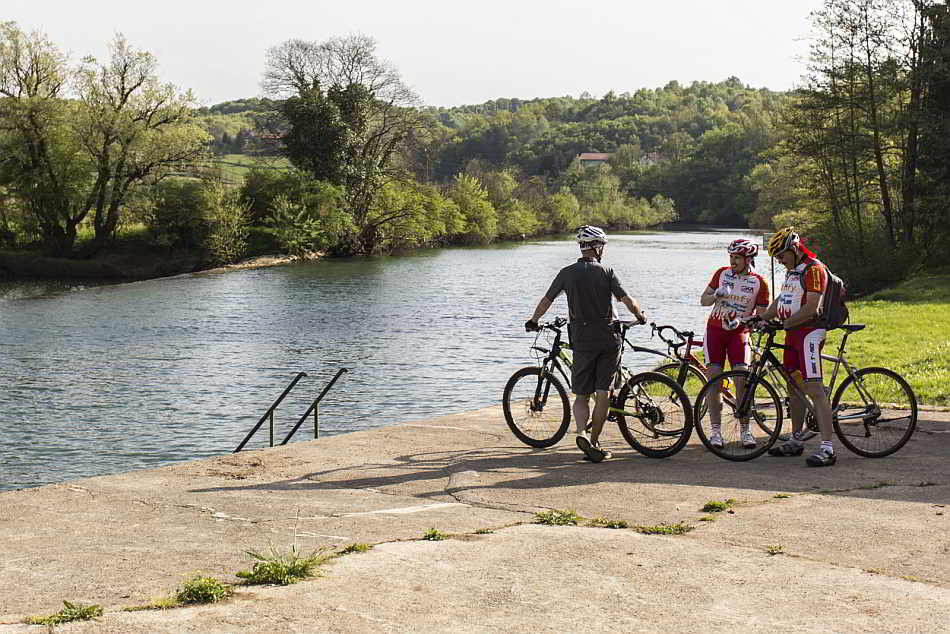 Photo: Bojan Haron, Croatian Tourist Board

The city of Karlovac is known as "The city of Four Rivers", as the rivers Dobra, Kupa, Mrežnica and Korana all meander through this 16th century city that recently bore the brunt of economic problems the Croatian economy has been faced with after entering the jolly good free trade world. Today Karlovac has something of a ghost town feel, and the same is true of most of the county. While obviously not a great omen for the locals, this is actually splendid for bicycle tourists, as a lot of the roads in the region are now great stamping grounds for these wheel loving creatures to enjoy their endless rides.

The on and off road options are so numerous that you could go on for weeks without having to repeat a given route. If it is your road bike that you want to take out there is no shortage of terrain; hilly roads around Žumberak, gentle flat roads that follow Kupa, a maze of roads around Mrežnica, it is hard to pick a favourite.

Mountain bikers can head towards Ogulin and discover the gravel road along the Vitunjčica river and Lake Sabljaci and if they are elevation hungry end up all the way close to the summit of Klek mountain, or choose Ozalj and explore sleepy gravel roads in the pristine area of the underrated Nature Park Žumberak, and finally if they are in need of adrenaline they can sequester a member of Karlovac's cross country team BBK T-Rex and ask them for a tour of the Karlovac XC course in the forest that surrounds the fortress of Dubovec, the venue of a few Croatian national mountain biking championships and UCI races.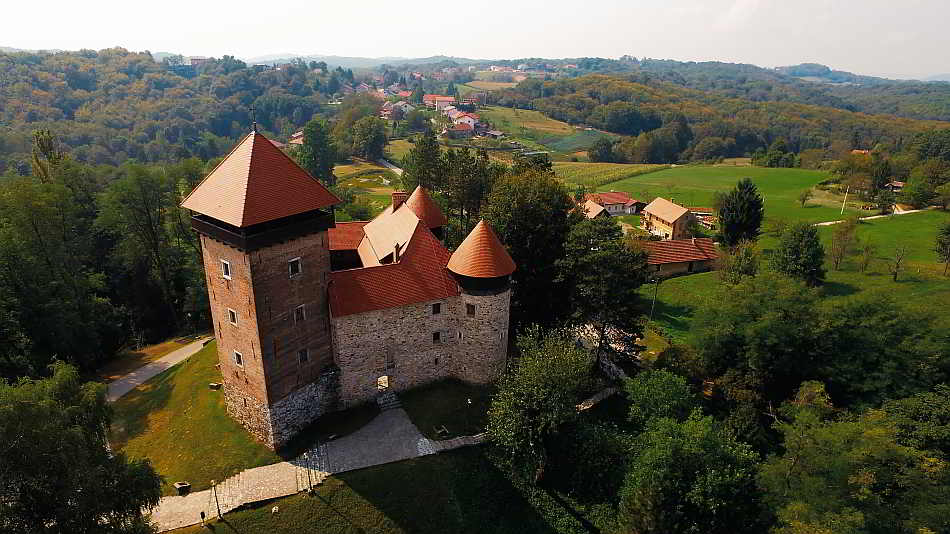 Dubovec Fortress, Photo: Ivo Bioćina, Croatian Tourist Board

For those that just wish to pass through the county in order to reach the Adriatic, the four Habsburg roads that will take them that way are Karolina, the road to Bakar, Jozefina to Senj, Lujzijana to Rijeka and Rudolfina to Novi Vinodolski. The first three have a starting point in Karlovac itself whereas in order to get on to the sinuous and hilly Rudolfina one has to reach Ogulin via Jozefina.

Some stretches of these roads are well maintained and still plagued by car traffic, but parts are unpaved and used only by local hunters and nature enthusiasts, making them a great asset for bicycle tourism as the traffic on those stretches is almost nought. These abandoned stretches are best covered using wide rubber; gravel and touring type road bikes, or trekking and mountain bikes. However, if you are a die-hard road bike worshipper you can bypass the treacherous gravel segments with ease and stay on the tarmac all the way to the coast as paved options are but a few kilometres away at all times.

If you are wondering where on earth you'll be able to fall asleep on these godforsaken roads, fret not! Although there is only one spot in the county suggested for bike camping there are actually numerous great spots to camp. Most locals will be bewildered to see a touring cyclist and often so confused by the sighting that they will not only offer you their fields as camping spots but also feed you and make you take a hot shower. Then, in the morning they will bid you farewell perplexed at your refusal to hitch a ride with them to the nearest town.
Bicycle touring still remains a rare disease among Croatians and although many people in the county use bicycles for their day to day errands the idea of someone actually travelling by bicycle is still considered foolish.
And for fans of conventional accommodation there are a few cosy rural retreats and simple hostels and motels along the parts of the old roads still used by car traffic. You might be frowned upon if they see you trying to smuggle your bike friend into the room but will often instead offer a safe room or garage to host the velocipede.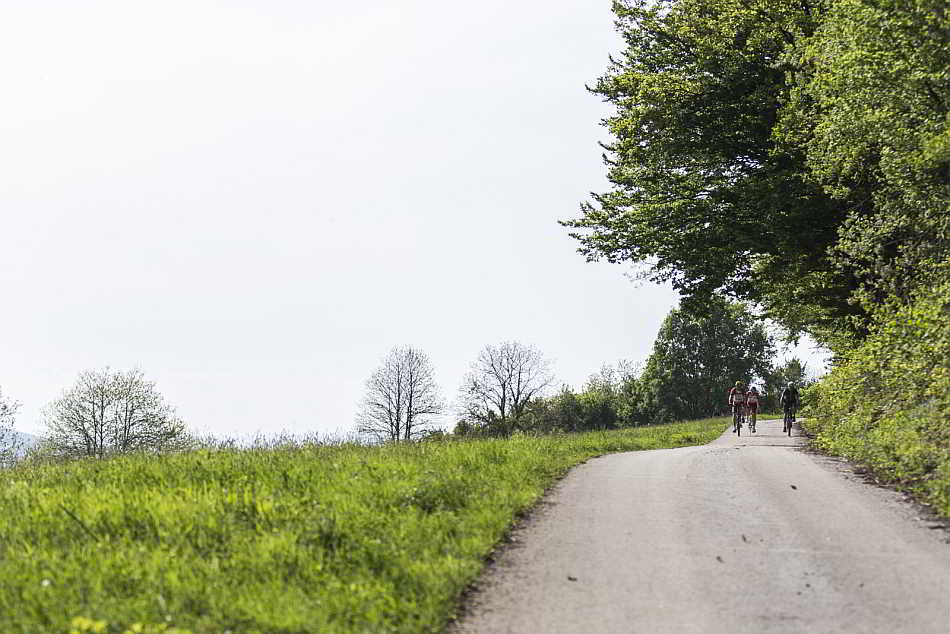 A lot of gems you shall discover riding your trusted steed in Karlovac County; the sleepy moats of medieval Ribnik, the Eden like village of Rastoke, the tourist friendly border region along the river Kupa that transpires an example of interregional collaboration between bellicose neighbours and offers a somewhat more optimist view of what Slovenia and Croatia could be doing to the benefit of both nations. And should your two wheeled friend get tired and hit by a sudden illness, one need not worry, quite a few bike shops in the area offer bike doctor services. And while your friend is getting treated if you find yourself too restless to spend time pretending you are reading a book on the banks of one of the numerous rivers, you can also engage yourself in a long list of extracurricular activities: rafting, kayaking, swimming, fly fishing, caving, hiking, immersing yourself in medieval, renaissance and baroque history, and finally garnish all that with a tasty offering of local wine and gastronomical treats.

While clearly not on the quintessential bucket list of any cycling bible, Karlovac County is a great starting point for bicycle touring addicts to embark on their exploratory Tour of Croatia, or a wonderful rural retreat for those cyclists in search of a spot to gather their thoughts and quietly pass a few weeks with their favourite two wheeled beast.